Motor Trike, Inc. announces the release of an all-new trike to add to their continually expanding line of Independent Rear Suspension conversions. The "Razor", as named by Motor Trike, was designed to fit the Honda Goldwing GL1800.
"The Razor touts a compelling new body design that makes you rethink GL 1800 trikes. The Razor is offered as an alternative style for our GL 1800 conversion line, giving customers another option to our best-selling Adventure conversion"
Motor Trike
took great care to stylistically match this new conversion to the Honda motorcycle itself. The all-new custom body design is aggressive, edgy and captures the stronger body lines the 2012 Goldwing, but also modernizes the 2010 and down Goldwing motorcycle; they are always the perfect match. The new-styling of the trike isn't the only thing that stands out; the Razor also boasts a redesigned drive shaft assembly, vivid new taillights, and the largest trunk/storage capacity of any OEM or trike conversion in the industry - 9.2 cubic feet/260 Liters. The redesigned, larger capacity trunk sits on Motor Trike's outstanding Independent Rear Suspension that is simply unparalleled when ridden side by side with any other trike on the market.
The Company is currently taking orders for the Razor at a price of $8,395.00 per kit and setting delivery dates for August 2013. The new trike will be on display at Wing Ding (July 3-6).
Headquartered in Troup, TX,
Motor Trike
, Inc. is one of the nation's leading trike conversion manufacturers.

PRODUCT INFORMATION

Razor Webpage
STANDARD FEATURES:
• Fits all GL1800 year models, 2001-2010 and 2012 & up
• IRS (Independent Rear Suspension) with over 4 inches of Suspension Travel
• On-Board Air Compressor w/fingertip controls, LED digital voltmeter readout and pressure gauge (allows for on-the-fly suspesion controls)
• Chrome Steel Wheels
• Disc Brake System
• 9.2 cubic feet/260 Liter trunk has 12 volt power source (charge phone or computer in a weather protected environment)
• Trunk door designed with hidden external hinges that do not occupy interior space (eliminates helmet scratches and luggage tangling with trunk hinge hardware)
• Trunk comes with light mounted on door to shine onto cargo, rather than being buried beneath it
• Warranty: 3 Year/60,000 Mile
AVAILABLE OPTIONS:
• Aluminum alloy wheels offered in five different style, optional matching front wheels
• Patented "step and walk on" running boards (Coming Soon), optional fog lights
• Chrome or black bumper
• Light Bar (Coming Soon)
• 4 ˝ degree rake
• Parking brake kit
• Echo exhaust
• Trunk carpets and embroidered trunk mats
• Embroidered fender bras, with stitching to match bike color
• Trailer hitch
• Trailer hitch wiring harness
• Chrome side cover upgrade
• Custom paint
Razor trike shown above with optional 17" chrome 6 spoke rear wheels & tires, Performance Machine front wheel, dual disc parking brake, and trailer hitch, and custom two-tone paint job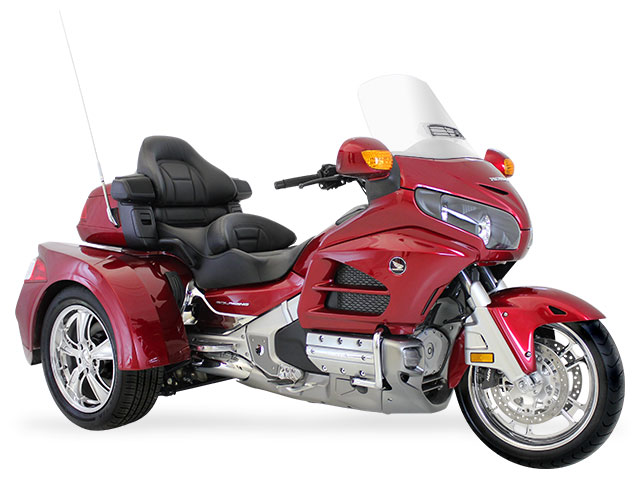 Razor trike shown here with optional 17" Chrome Boulevard rear wheels & tires, Performance Machine front wheel, chrome side cover upgrade and dual disc mechanical parking brake.
Motor Trike
Troup, Tx
(800) 90-TRIKE